Open Letter !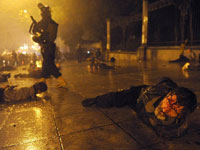 We, women's organizations of Georgia and those from all over the world, in solidarity with society of Georgia, are very concerned with facts of violence and civil unrest, which took place during the breaking of rally of opposition protesters on 26th of May 2011 in Tbilisi.
We consider that both political leadership of the country and representatives of the radical opposition party, namely, "Public Assembly", should bear political, legal and moral responsibility for the facts of violence and lethal accidents which happened on the eve of the Independence Day in Georgia. As representatives of the women's groups struggling for peace, reconciliation, human security and end of suffering, we vigorously condemn any facts of violence and declare that there is no political ideology which is worth of human life.
We call upon national decision-making structures, first of all Parliament and President of Georgia, to secure Fundamental Human Rights of Georgian people, specifically the right of people to peacefully protest, right of self expression, freedom of speech and self security. We urge them to take all necessary measures for objective investigation of the events of 26th of May 2011, including alleged excessive use of force by the police officers.
We call upon representatives of the "Public Assembly" not to urge their supporters for new protests unless, they are able to properly organize demonstrations and provide necessary measures for participant's security during the rally, as well as to take part in the investigation of the events of 26th Of May including lethal accidents and be open and responsive in course of the identification of truth.
We call upon representatives of other opposition parties to be more active in mediation of dialogue between political opponents on the side of government and radical opposition.
We call upon representatives of international and inter-governmental organizations to closely observe the process of investigation and reconciliation in the society.
Finally, we call upon citizens of Georgia to restrain from violence and preserve public peace in the country.
JOIN US !
Contact us:
E-mail: info@ginsc.net; media@ginsc.net
Anti – Violence Network Mtskheta Mtianeti Regional Committee - Tamar Maisuradze
"GenderMediaCaucasus" Journalists' Association– Galina Petriashvili
Asosiation " Samegrelo Medea -Marina Davitaia
Association "Woman and Development"– Fati Bukhrikidze
Association for the Protection of Women s Rights in Azerbaijan -Dilara Efendieva
Bridge of Friendship "Kartlosi" – Megi Bibiluri
"Dynamic Psychology for Development and Democracy" – Nino Javakhishvili
"IMEDi" Movement of IDP Women for Peace –Kristina Kilanava
International Advisory Center for Education of Women - Maia Kuprava-Sharvashidze
"Progress" Devalopment and Cooperation Union – Nino Gabunia
Research Center for Human Rights and Social defend – Eliso Janashia
Society "Biliki" - Marika Mgebrishvili
Union Saphari: Family without Violence" - Nato Zazashvili
Women Democratis –Marina Modebadze
Women for Equality _ Veriko Bitsadze
Women: Peace and Security Center- D. Aliyeva
Women's Council of Autonomous Republic of Abkhazia –Roza Kukhalashvili
Women's Fund in Georgia - Nana Panculaia
Women's Information Center – Elene-Maya Rusetsky
Women's Educational Center "TORI" - Ekaterine Skhiladze and Tamar Gogoladze
Women's Fund "TASO" – Marina Tabukashvili
"Woman and World" Women's Association of Kvemo Kartli –Marina Bjalava
Women's UN Report Network – WUNRN – Lois A. Herman
Global Fund for Women – Violeta Krasnic
2011-05-28